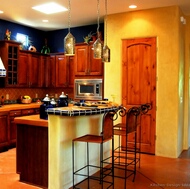 Mexican Kitchen Design: Growing in popularity at an astounding rate, Mexican kitchens are as bold and spicy as the food and flavors of Mexico. Hot colors and a welcoming cooking environment are essential to achieving an authentic Mexican style kitchen.
Mexican Kitchen Accessories: Open-faced cabinets with plates sitting on fabric-covered shelves, a bowl of fruit on the kitchen table, and chili peppers in various displays all make for excellent eye-catching decor in Mexican kitchens. Consider hanging Mexican artwork, decorative sombrero hats, colorfully striped fabric, stained glass, or colorful plates to liven up any bare walls. Other distinctive decorations include talavera kitchen canisters, hand painted clay jugs, Mexican-style salt and pepper shakers, delicately woven tapestry, food baskets, and wrought iron shelves.
Kitchen Surfaces: Granite is certainly the first choice for countertops, with Marble as a second option. The illuminating effect of cobalt blue tiled countertops can be stunning. Multicolored talavera tiles can bring an artful and authentic look to your kitchen. For flooring, consider the rustic beauty of terracotta tiles, which are often found in Mexican fiesta kitchens. Wide-planked wood flooring is another excellent choice to add warmth and natural beauty to the room.
Kitchen Design Trends: Mexican kitchen designs are becoming ever more popular in the USA as our tastes and cultures blend in the melting pot of America. As a designer, I would expect this style to increase in popularity as more and more people fashion their kitchens into functional works of art with visual themes carrying equal weight to practical needs.
Luxury Mexico Kitchen Design
Amazing Mexican Kitchen Design
Modern Kitchen Design
Snail Shaped Kitchen Design
Best Mexican Kitchen Design